Teach English in Spain
Do you want to live and teach English in a region hugging the Mediterranean coast? A place with the most dazzling architecture in the world and where food is so rich the air is infused with its scent? Teach English in Spain and enjoy your new life in Catalonia and Valencia.
Our TEFL interns in Catalonia can soak up the sun along the world famous golden coast. Visit the hometown of Salvador Dali and fiesta into the night in Barcelona or Terrassa.
And get ready to consume the best food of your life. Why not take a trip to the Mercat de la Boqueria and get lost among the sea of food restaurants.
Just a short hop south and you'll find yourself in the cultural hub of Valencia. This region has some of the best and craziest festivals in all of Spain. Make sure to mark March into your calendar for Las Fallas, a UNESCO intangible cultural heritage.
Stand in awe of 30 ft high floats parading through the city while everyone parties on the streets. On the fifth day, the real spark happens, but we'll let you see it for yourself.
With spots for 300 interns, competition can be tough. But with our 120 hours online TEFL training you'll stand out from the crowd and boost your chances at living La Vida Española.
Our dedicated team in Spain are on-hand to give you professional support 24/7. You'll also have assistance in finding accommodation in Spain. You won't find a more immersive experience, we promise you.
TEFL experience requirements
Aged between 20 – 35
Native English speaker
EU citizenship or passport from the following countries who are eligible to apply for a student visa from their local Spanish Embassy: USA, Canada, South Africa, Australia and New Zealand
Bachelors Degree
TEFL qualified (included)
Minimum of 1 year experience working with children in an educational setting or previous internship experience.
To be adaptable and able to socialize and interact with people
A desire to live in a foreign country and make the most of the experience
How it works?
Before you go, you'll have an application form to complete, a video interview, submit all your documents and then you'll be on your way to Spain.
Getting there
Once you have been formally accepted you can book your flight to Barcelona for September/October. On your arrival, you'll be picked up at Barcelona airport (BCN) and spend an action-packed two days at your welcome orientation before being transferred to your accommodation.
What do you need to organize?
International flights: return flights are a must
Police check: Each applicant must have a clean criminal record
Health check: Each applicant must provide a full health statement
Budget: Each applicant covers excursions and meals outside of school hours
Travel insurance: It's really important to arrange this before you go!
Visa costs
Deposit: Upon acceptance, students must pay a €150 deposit which is refunded once they have completed the internship
Your teaching experience
You will take on the role of teaching assistant, working in teams of teachers to improve the conversational level of each student. Following a curriculum will help you to draw up lessons plans. But there is plenty of space to infuse your own creativity into the lessons.
Why not teach your students about the country and culture you come from? Or teach English through song and games.
Placements will be in schools with age-groups ranging from infant up to secondary school. Interns can expect to be teaching children between the ages of 3 and 16, with your daily lessons a mix of various age-groups.
A typical school week runs Monday-Friday with an average of 25 hours of classroom time. The remaining 10 hours will be dedicated to lesson planning and grading.
Location
All flexible & successful applicants will spend 9 unforgettable months in the location that is assigned by the Spanish partners. These locations can be within
Catalonia region
Valencia region
Other regions in Spain ( Placements are limited)
Outside the classroom
Outside of the classroom, you will be dividing your time between sightseeing and social life. Living independently will give you an authentic and unique experience. It couldn't be more immersive if you tried!
You can be confident joining this internship with the knowledge that you will be in a safe environment. All the while improving your Spanish fluency.
Allowance
As an intern you'll be paid a competitive monthly salary up to €915 per month, the will allow you to cover rent and bills as well as save up for those exciting adventures around Spain.
This one-of-a-kind paid internship with The TEFL Institute gives you much more than a chance to see Spain and become a competent TEFL teacher.
You'll gain a real understanding of the Spanish language, culture and way of life, make long-lasting friendships and develop invaluable life skills you can take with you, no matter what your future holds.
Our partners in Spain dictate the allowance earned by each applicant on an individual basis based on previous experience.
TEFL Training Included
Group Size up to 250
Receive discounts & advice about Spain and similar experiences
✖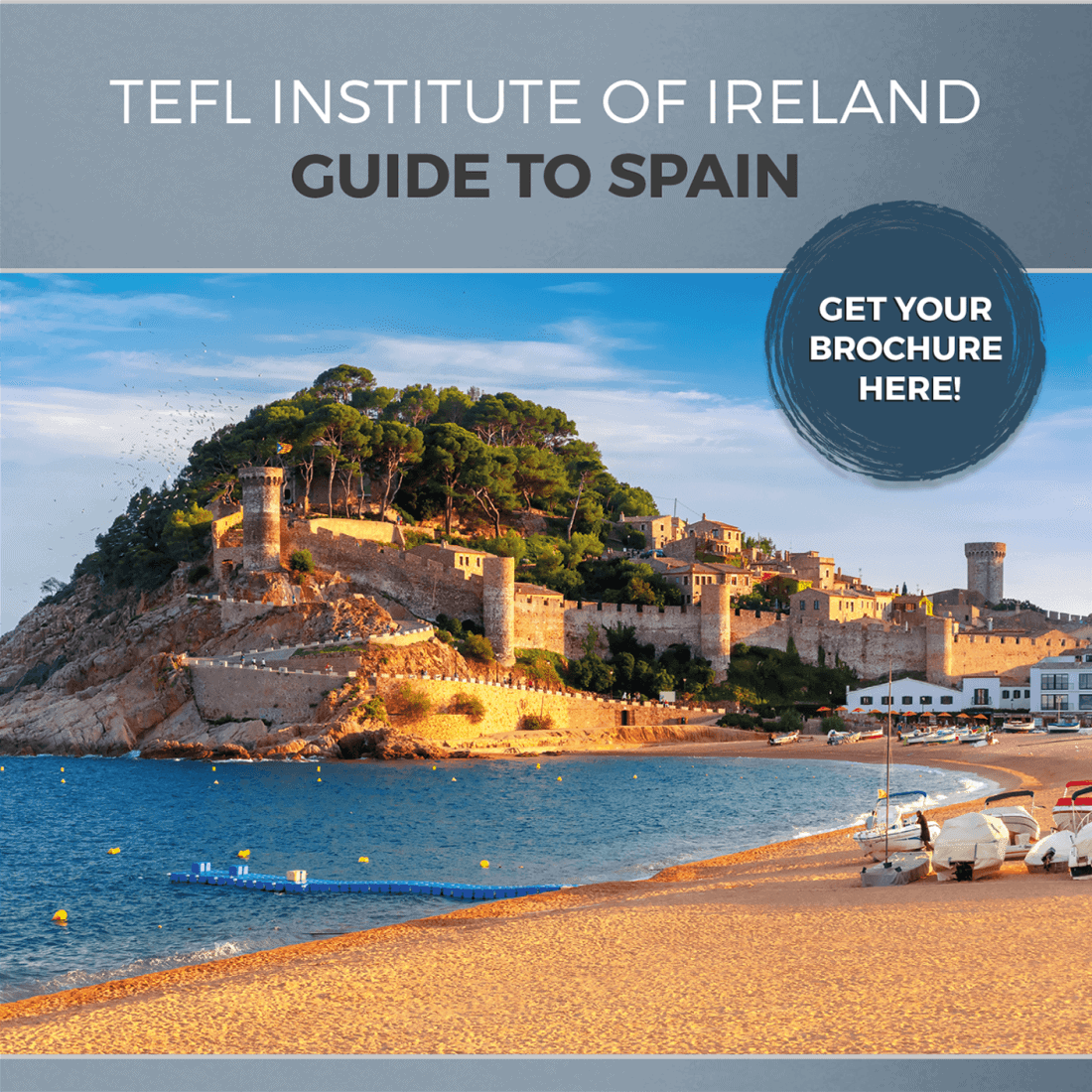 What's inside?
Welcome to Spain
Placements & locations
Orientation & training
Who can apply
Spain facts
What's up for grabs
FAQ
Sign up and get instant access to your Spain Brochure.