English Level Test - Find out if you have the level of English it takes to complete our TEFL courses.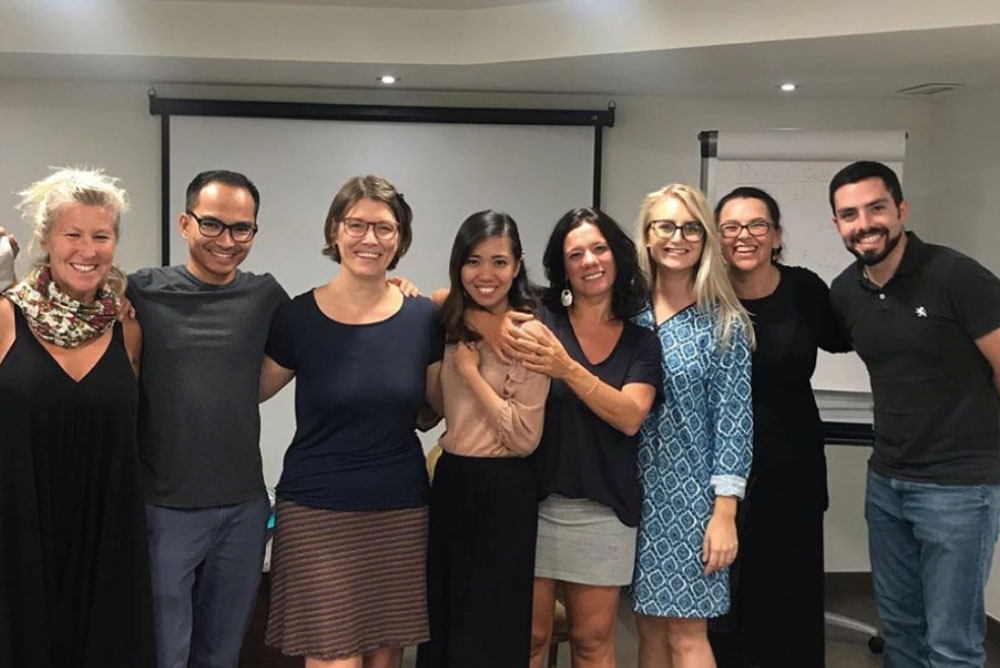 TEFL courses in Cork
Our practical TEFL Course in Cork is the simple way to teach English abroad. In just 10 hours, you can take part in the course and achieve a qualification that will make teaching abroad a reality. With the right tools and expertise, you can harness the best teaching methods that will enable you to excel.
We use some of the best TEFL trainers in the industry and our courses are delivered flawlessly. What's more, you can also take our classroom course alongside one of the many other TEFL courses, ensuring you can immerse yourself in the learning experience as much as possible. It is recommended that you achieve a minimum of a 120-hour qualifications as employers will consider the number of hours you have completed when it comes to hiring. We also ensure that our courses are highly accessible as we offer them in four locations throughout Ireland: Cork, Dublin, Galway and Limerick.
---
---
Why take the 10-hour intensive Classroom TEFL Course?
If you want practical experience, then our one-day course in Cork will offer just that. This will help you to open doors and make your way into the world of teaching English as a foreign language. The course will provide you with a thorough introduction into TEFL, enabling you to benefit from group learning environments and feedback from peers who have a vast amount of experience in this industry.
You can add this course into the 130-hour or 180-Hour Blended TEFL Course, ensuring you achieve a minimum of 120-hour TEFL qualification. We are proud of the way in which the TEFL Institute Ireland has helped to make it possible for our graduates to teach in every corner of the world. If you want to gain an understanding of the basics of TEFL then perhaps you should consider enrolling on our course.
Verified Student Reviews

I just finished the 10 hour practice teaching online class course. This was a brilliant course to do with like minded people all working towards the same goal for different reasons. Our teacher was kind and engaging and very patient.I could not recommended it more for anyone who is considering teaching in class or online this will accommodate both.It's a good ice breaker to get rid of the nerves you may have on teaching.

I would highly recommend the TEFL Institute of Ireland. I have really enjoyed the 180-hour, Level 5 course and the 30-hour Online Course. The courses are well structured and easy to navigate. They were both very informative, allowing me to feel confident to begin teaching English as a foreign language. I would recommend taking part in these courses as they are affordable, flexible, and the TEFL team is always there to help with any questions.

Michael D.
16:26 21 Sep 20
I have recently completed a 180 hour course and a 30 hour Online Teaching course with the TEFL Institute of Ireland and I would highly recommend this company and their courses.The courses are enjoyable, informative and and the layout of the courses are easy to navigate. I was impressed that I could do the courses in my free time and there was always a very helpful member of the TEFL team ready to answer any questions I had.

I've just finished my TEFL course, and I can't be happier. All the modules were really easy to navigate, as well as the information provided. Can't wait to start my journey as a TEFL teacher, thanks to The TEFL Institute of Ireland.

Michael N.
19:34 17 Sep 20
Fantastic value for money. Great tips for teaching English online. Simple and easy to follow.

Very good value! Loved the course

hallie von K.
11:54 16 Sep 20
Best decision of my life!

Danielle L.
10:24 16 Sep 20
Excellent course, very well laid out. I enjoyed learning a lot about teaching english online.
This could be yours
Have a look at your future Accredited TEFL Certificate