English Level Test - Find out if you have the level of English it takes to complete our TEFL courses.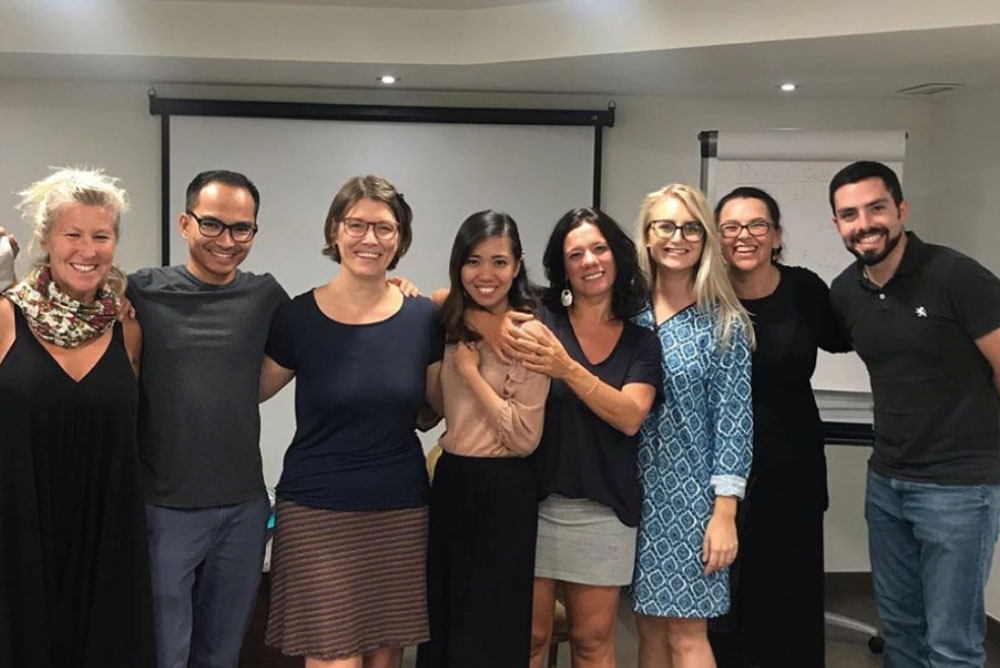 TEFL courses in Dublin
Get qualified to teach English abroad and online with our 10-hour practical TEFL course in Dublin. In just 10 hours, gain lifetime qualification of classroom methodologies under your belt.

Our day courses are led by some of the TEFL industry's top trainers. We recommend taking this classroom course with any of our online TEFL courses for the most comprehensive training.

TEFL courses are measured in hours and most employers hire teachers with at least a 120-hour qualification. We have 4 locations in Ireland throughout Ireland: Dublin, Cork, Limerick, Galway.
---
---
Why take the 10-hour intensive Classroom TEFL Course?
Our day course in Dublin will give you the hands-on, practical experience you need to get started teaching English as a foreign language. The main goal of this course is to get a perfect introduction to TEFL world, benefit from group learning & peer feed-back.

As most employers require applicants to hold at least a 120-hour TEFL qualification, you can combine this classroom course into 130 Hour or 180 Hour Blended TEFL Course which is at discounted value. TEFL Institute of Ireland graduates have gone on to teach all over the world. This is your time to sign up now and start your own adventure. The aim of this course is to understand the basics of TEFL and benefit from group learning and peer feedback.
Verified Student Reviews

Catherine was very helpful sorting out the slight issue I had. Happily sorted it very quickly

Excellent service for a reasonable price. Great communication and support. Great skill to have and a great organization to learn in. Thanks for everything!

I have just completed the 120 hour online TEFL course and couldn't be happier with my experience. The course was thorough and easy to follow. The self learning approach was perfect for me while I continued to work full time. The staff were particularly helpful, approachable and encouraging throughout the duration of the course. Thank you !

I finished the 120 hour online TEFL course. I really enjoyed the course, I found the course content interesting and informative. 10 modules with videos and informations . Great value . I would definitely recommend this course if you are considering teaching online!

gearoidhaze
16:36 22 Jan 21
I have no hesitation in recommending The TEFL Institute Ireland. They are very professional, are easy and pleasant to deal with, provide excellent training and are very supportive if you have any questions or queries.

Caroline D.
09:39 21 Jan 21
About to finish this! It's user friendly.

I completed the 120 hour Advanced TEFL course last year and found it very interesting and definitely stood to me when teaching online. When applying for jobs I needed my cert to be amended to show my full name as it appears on my passport - something to look out for when applying for jobs especially in Asia. Ola was so helpful and quick to respond! Thanks!

I finished the 120 hour online TEFL course. I really enjoyed the course, I found the course content interesting and informative. I was a bit apprenhensive at the start but as I progressed throught the six modules I found my knowledge and confidence grew. The course is well designed and the modules logically follow each other and help to build your knowledge as you proceed through the course. After the 120 hour course I did the 30 hour Advanced Grammar and found this really really useful and brought together the basics I learned together.I would recommend this course to anyone who is interested to teaching English as a foreign language.
This could be yours
Have a look at your future Accredited TEFL Certificate