English Level Test - Find out if you have the level of English it takes to complete our TEFL courses.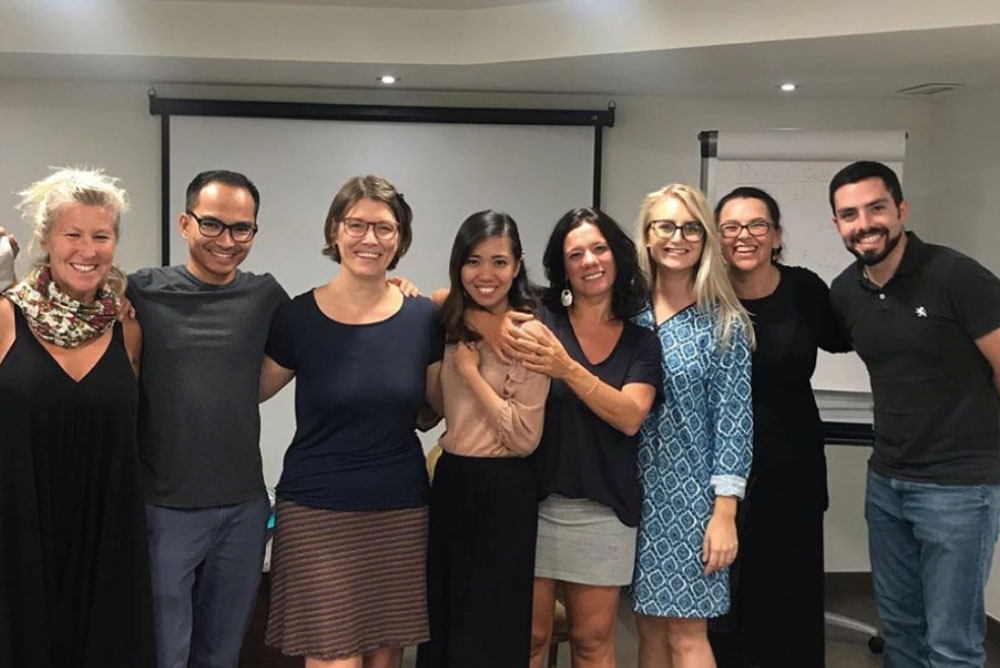 TEFL courses in Dublin
Get qualified to teach English abroad and online with our 10-hour practical TEFL course in Dublin. In just 10 hours, gain lifetime qualification of classroom methodologies under your belt.

Our day courses are led by some of the TEFL industry's top trainers. We recommend taking this classroom course with any of our online TEFL courses for the most comprehensive training.

TEFL courses are measured in hours and most employers hire teachers with at least a 120-hour qualification. We have 4 locations in Ireland throughout Ireland: Dublin, Cork, Limerick, Galway.
---
---
Why take the 10-hour intensive Classroom TEFL Course?
Our day course in Dublin will give you the hands-on, practical experience you need to get started teaching English as a foreign language. The main goal of this course is to get a perfect introduction to TEFL world, benefit from group learning & peer feed-back.

As most employers require applicants to hold at least a 120-hour TEFL qualification, you can combine this classroom course into 130 Hour or 180 Hour Blended TEFL Course which is at discounted value. TEFL Institute of Ireland graduates have gone on to teach all over the world. This is your time to sign up now and start your own adventure. The aim of this course is to understand the basics of TEFL and benefit from group learning and peer feedback.
Verified Student Reviews

Stephen D.
15:59 28 Sep 20
The 10 Hour Virtual TEFL course included practical teaching which is good training for teaching online and traditional classroom teaching. I am happy to have completed this course, it was a good experience. I would highly recommend the TEFL Institute of Ireland.

Jennifer K.
13:50 28 Sep 20
I have just completed the 120 hour course and the 30 hour advanced grammar course. I cannot recommend it enough. It was a great way to keep my mind active and learn new things. I am looking forward to putting what i have learnt to good use.

Easy to get TEFL qualification

I just completed the 120 Hour Online TEFL course along with the 30 Hour Teaching Online course and I'm so glad that I did them. I had wanted to study this with years and when the lockdown came I was looking for something to do so I said why not?The course was brilliant, everything was so well layed out with all the information you needed. They provided plenty of links to resources that can be used when teaching English which I thought was really handy to have. There was also great communication - I knew that if I had any problem I only had to ask for help.I'm really glad I did this course and would 100% recommend it to anyone who was think about teaching English!

The app was great to use on the go and gave me plenty of time to complete my course. I would definitely recommend this company

Celeste B.
12:00 25 Sep 20
I am in the process completing the 120 hour TEFL Ireland course. I want to extend my thanks to the team at TEFL Ireland for the amazing support, encouragement and prompt service. The course itself is easy to follow, well laid out and comprehensive. There are additional webinars which help with all aspects of teaching and progressing. Super people I have not felt alone on this journey to becoming a TEFL teacher! Thanks to all!

I just finished the 10 hour practice teaching online class course. This was a brilliant course to do with like minded people all working towards the same goal for different reasons. Our teacher was kind and engaging and very patient.I could not recommended it more for anyone who is considering teaching in class or online this will accommodate both.It's a good ice breaker to get rid of the nerves you may have on teaching.

I would highly recommend the TEFL Institute of Ireland. I have really enjoyed the 180-hour, Level 5 course and the 30-hour Online Course. The courses are well structured and easy to navigate. They were both very informative, allowing me to feel confident to begin teaching English as a foreign language. I would recommend taking part in these courses as they are affordable, flexible, and the TEFL team is always there to help with any questions.
This could be yours
Have a look at your future Accredited TEFL Certificate