English Level Test - Find out if you have the level of English it takes to complete our TEFL courses.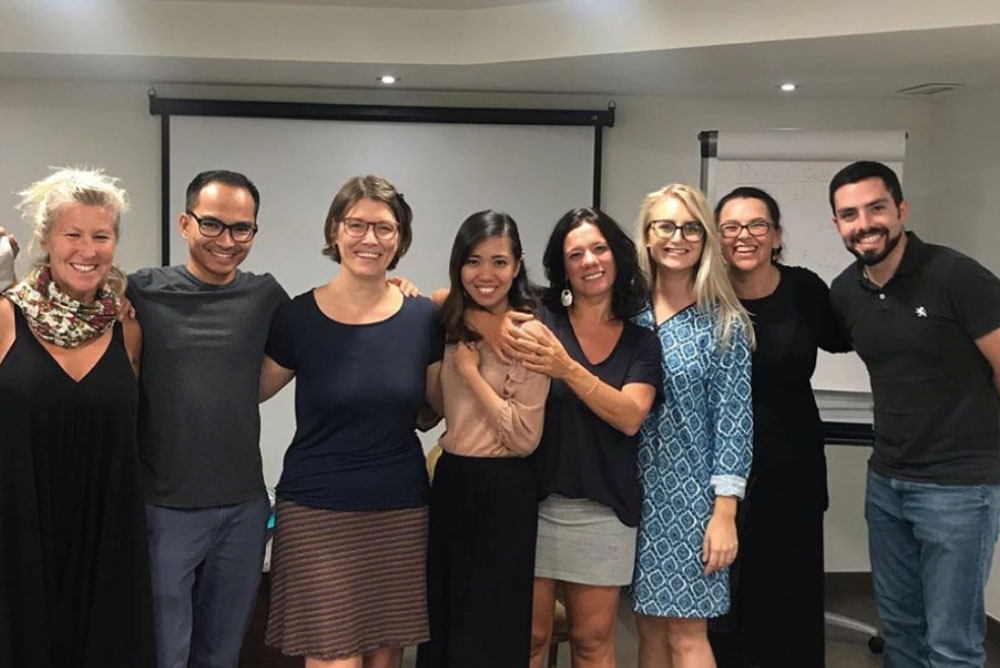 TEFL courses in Dublin
Get qualified to teach English abroad and online with our 10-hour practical TEFL course in Dublin. In just 10 hours, gain lifetime qualification of classroom methodologies under your belt.

Our day courses are led by some of the TEFL industry's top trainers. We recommend taking this classroom course with any of our online TEFL courses for the most comprehensive training.

TEFL courses are measured in hours and most employers hire teachers with at least a 120-hour qualification. We have 4 locations in Ireland throughout Ireland: Dublin, Cork, Limerick, Galway.
---
---
Why take the 10-hour intensive Classroom TEFL Course?
Our day course in Dublin will give you the hands-on, practical experience you need to get started teaching English as a foreign language. The main goal of this course is to get a perfect introduction to TEFL world, benefit from group learning & peer feed-back.

As most employers require applicants to hold at least a 120-hour TEFL qualification, you can combine this classroom course into 130 Hour or 180 Hour Blended TEFL Course which is at discounted value. TEFL Institute of Ireland graduates have gone on to teach all over the world. This is your time to sign up now and start your own adventure. The aim of this course is to understand the basics of TEFL and benefit from group learning and peer feedback.
Verified Student Reviews

I took the 120 hour certificate and would highly recommend it to anyone who is considering TEFL as a career. It provided a good overview of what one can expect when teaching, useful tips and ideas for classes and a wealth of further information to consult. Very kind and friendly service at the Institute as well, thank you very much for all the help.

Jack Hennesey C.
07:41 20 Oct 20
I have just completed my 180 Hour Level 5 TEFL Course with the TEFL Institute of Ireland and would highly recommend the course to someone looking to get certified. The course is easy to follow and well laid out, while challenging enough to merit its high prestige. Communication from the Institute was also extremely easy and helpful. The entire experience was professional and great value for money.

The 30 Hour Advanced Grammar course has definitely helped me consolidate my English grammar knowledge and acquire strategies and resources to convey these concepts when it comes to teaching. I strongly recommend it.

Naoise Henefer M.
14:47 16 Oct 20
I really enjoyed doing both the level 5 180 hour course as well the Advanced Teaching course to be not only worth while but also a very enjoyable experiance. I have never done any form of online learning up to doing these courses and I am happy that I did them. Firstly the struture of the site makes it really easy to access and find all the relevent materials. Secondly the content itself appeals to all types of learners and discribes the material not only in a comprehensive mannar but also making it fun in the process. While level five was more theoretical doing the follow up of the Advanced Teaching Course really helps to structure the level five course into a real adaptable teaching approach that you can take with you into your own careers while also instilling confidence in you as a new teacher. oth friendly and The staff as well are helpful, understanding and friendly who are always there to help you withina reasonable time frame. I would reccomend anyone to do these courses on this website They will not Regreat them .

Rebecca M.
14:17 16 Oct 20
I signed up for the 10 hour Virtual Training course at the last minute, and I'm glad I did! Both tutors Michelle and Kate were very inspiring. They were extremely helpful and supportive. In fact, just watching how they handled the course itself gave me ideas to apply in the virtual classroom.Having spent the last few months completing the 180 hour level 5 TEFL Certificate online, it was great to get that collaborative experience and added boost in confidence, while practicing teaching skills online. It was also brilliant to get feedback from tutors and other participants.Well worth it!

I completed the 300 hour level 5 tefl course and the 10 hour online virtual tefl course.I'm really happy with the way they have build the courses and the great support that the workers of Telf institute of Ireland are giving to their students.The 300 hour course and specialist courses:The online coursers are Build really well and are easy do understand. After every chapter you will have to do a small test to make sure that you have mastered the material that has been provided to you.Because of this you will have small chunks of new material that you will learn what helped me for remembering the material a lot better.10 hour online virtual tefl course:This is an course you will do in an virtual classroom with other students.The teachers are giving you a lot of examples on how to teach and you will get first hand experience as a student to see how they will experience the teaching. Besides this we will also get experience on the teaching it self as we will give a mini lesson our self in a save environment.This has given me more confidence and ideas on how to plan my future classes.The support:The support of this organisation is really amazing. They really want their students to succeed and will assist you in any way they can.If you have any questions they are replying really fast and give really good feedback on the questions and material they had to review.I would definitely recommend this organisation if you want to make a start within the Tefl world.

Vasilis P.
17:12 14 Oct 20
Great content overall and useful suggestions. However, the audio pieces could be better recorded. They might want to consider re-doing them. I would recommend it.Amendment: I just completed the Teaching Business English course and I have to say I am very pleased. This has totally restored my faith in both the process and the organisation. Thanks very much for this great material.

I've been most pleased with my experience with TEFL Ireland and I know I made the right choice. In every part of the journey, from choosing TEFL course, learning, technical help, I've had prompt and heartfelt responses from them. I highly recommend TEFL Ireland as one's to go place for training in TEFL qualification.
This could be yours
Have a look at your future Accredited TEFL Certificate