English Level Test - Find out if you have the level of English it takes to complete our TEFL courses.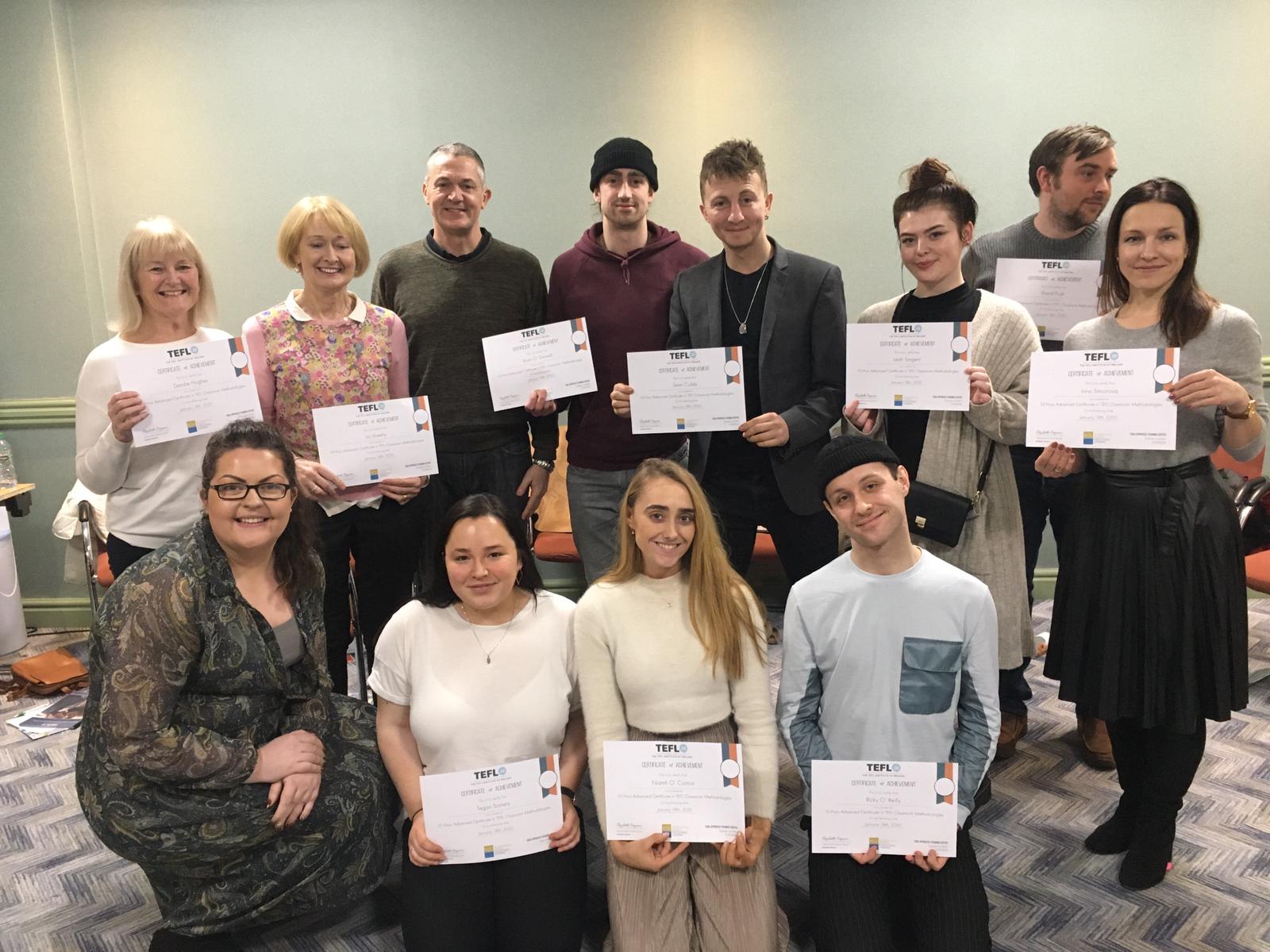 TEFL courses in Galway
Get qualified to teach English abroad and online with our 10-hour practical TEFL course in Galway.
We welcome anyone over the age of 16 with a good standard of English and from any background. No prior teaching experience is necessary; we'll take you through each module step-by-step. Others use it as a base course and add on further TEFL training.

The course was designed specifically to equip you with the skills needed to be confident and successful in your overseas classroom, regardless of your experience level.

As most employers require applicants to hold at least a 120-hour TEFL qualification, you can combine this classroom course into 130 Hour or 180 Hour Blended TEFL Course. Whatever course you decide to take the 10 hour practical course will enhance your opportunities and boost your employability.
---
---
Why take the 10-hour intensive Classroom TEFL Course?
Our day course in Galway will give you the hands-on, practical experience you need to get started teaching English as a foreign language. The main goal of this course is to give you a perfect introduction to TEFL world, benefit from group learning & peer feedback.

The course is delivered in a fun and interactive way, by experienced tutors who've gone off to teach all over the world and many of them started just as you will, with the TEFL course in Galway is held in the Clayton Hotel Galway, Ballybrit, Galway.

Verified Student Reviews

The TEFL Institute of Ireland is amazing.I had a very easy and enjoyable time completing my course. There was so much help and advice offered from the onset of my studies, and I'm so grateful that I chose to study here. I'm continuing on with more courses as I've really enjoyed myself. I feel incredibly prepared and excited to begin teaching.

The TEFL Institute offer clear, informative and well presented notes. Each module focuses on a different area, and is supplemented with different activities such as Youtube Videos and images to help with learning.Even though the course is done online, they are very easy to get in contact with should you have any issues or questions in relation to what you are studying.They also offer lots of support in the area of finding jobs, and how best to prepare for interviews, and starting a new job in various different countries. They also provide many other resources such as webinars to keep everyone informed of new positions and information available.

Sarah Anne T.
00:31 28 Feb 21
I would highly recommend the 120 hr course. Good layout and easy to follow.

Verléin Mc K.
15:00 27 Feb 21
This course has given me the confidence to seek for an TEFL job abroad. The platform was easy to use and contained lots of resources, and the modules themselves were information, well-researched and contained thorough bibliographies which enabled me to research further on my own. I would definitely recommend this company.

Sandrine D.
13:10 25 Feb 21
I have been studying with TEFL.IE for the last couple of months, doing several courses(from an excellent value-for-money package with no less than 5 courses!) . Great customer service, and Emma just proved it again today. I completed and enjoyed the 10hr classroom class last week. It was taught by Kate, whose enthusiasm was contagious and she answered questions with patience and in a friendly manner. The course materials are interesting and well-structured. Very good support from the mentors who answer the questions quickly. So far a very good experience.

Maciej H. D.
13:08 25 Feb 21
I really enjoyed the "30 Hour Teaching Young Learners" course. It is organised in a clear and logical way. Most of all I appreciate the vast number of materials you can get from it with lots of ideas how to have a lesson with (very) young learners and teens. I can honestly say that I recommend taking this course offered by The TEFL Institute of Ireland, especially for the price I got it for. It is definately worthy considering both for someone who only starts his/her teaching career, as well as those already having some experience, but looking for some new ideas or activities to use in their teaching. I've done similar short supplementary courses offered by other providers as well, but this particular one was so far the most comprehensive one.

Bought the 120 Hour Premier TEFL Course six months ago while it was on sale. So far I have found the course's content extremely beneficial and relevant for a career in teaching English, both in the classroom and online, and I feel much more confident in my ability to provide a first class teaching experience to my prospective students. On top of that the support I have gotten from Tefl's customer support team has been excellent, in particular from Kate, who provided detailed answers to my queries in a timely manner. All in all I would recommend this course to anyone looking into a career in teaching English. You won't regret it!

I was always intrigued to the opportunity of teaching English as a foreign language. The TEFL Institute helped me gain the necessary requirements to be able to achieve this and did so in a process which I have to say was pleasing doing. I have completed online courses prior to this and found some of them dull and forceful, although when completing my TEFL course I enjoyed it, I was putting in long hours and taking in lots of information but it felt light. It did not feel I had to force myself, I enjoyed it and it excites me for what is to come with my certificate and experience.
This could be yours
Have a look at your future Accredited TEFL Certificate