English Level Test - Find out if you have the level of English it takes to complete our TEFL courses.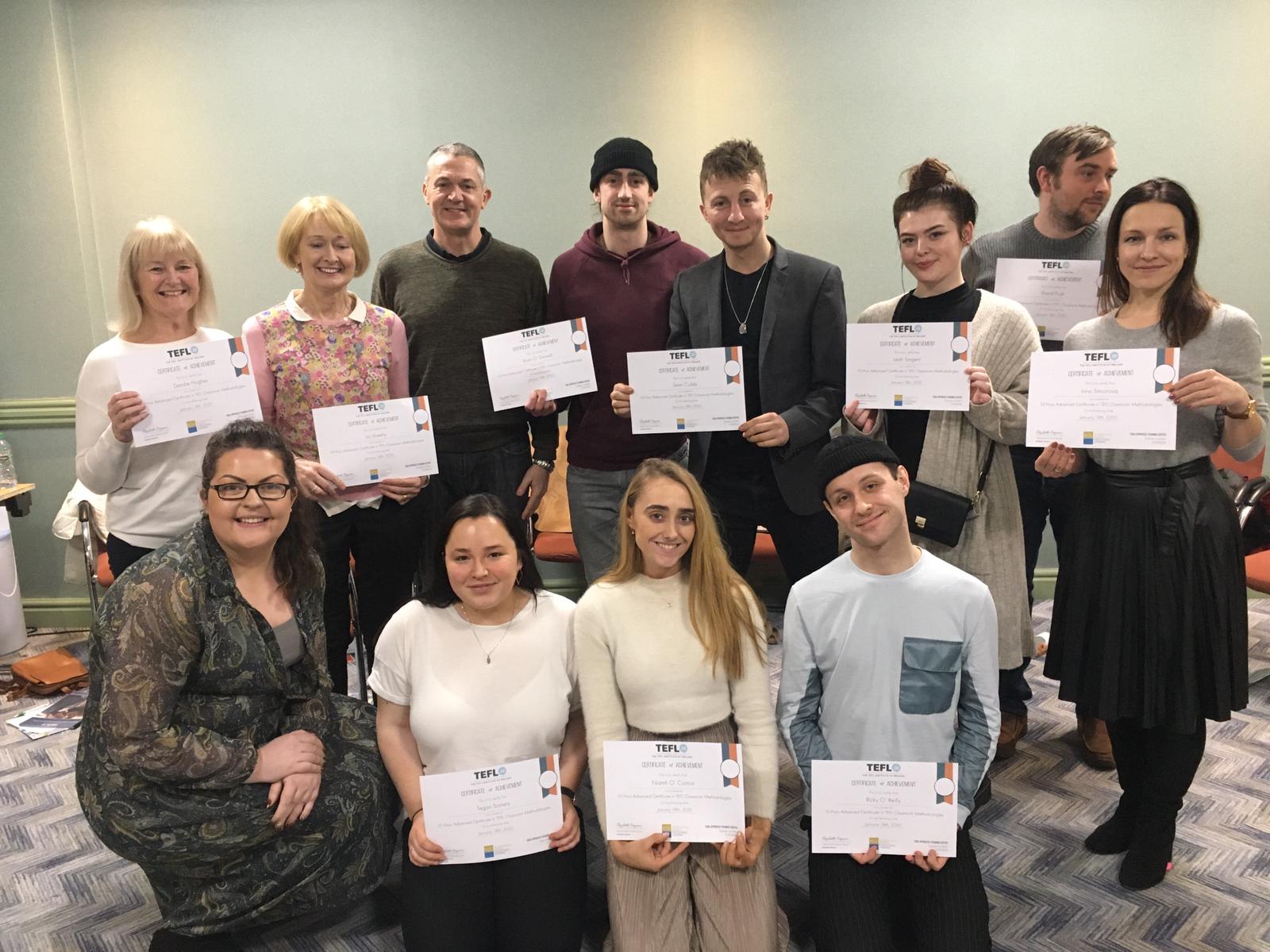 TEFL courses in Galway
Get qualified to teach English abroad and online with our 10-hour practical TEFL course in Galway.
We welcome anyone over the age of 16 with a good standard of English and from any background. No prior teaching experience is necessary; we'll take you through each module step-by-step. Others use it as a base course and add on further TEFL training.

The course was designed specifically to equip you with the skills needed to be confident and successful in your overseas classroom, regardless of your experience level.

As most employers require applicants to hold at least a 120-hour TEFL qualification, you can combine this classroom course into 130 Hour or 180 Hour Blended TEFL Course. Whatever course you decide to take the 10 hour practical course will enhance your opportunities and boost your employability.
---
---
Why take the 10-hour intensive Classroom TEFL Course?
Our day course in Galway will give you the hands-on, practical experience you need to get started teaching English as a foreign language. The main goal of this course is to give you a perfect introduction to TEFL world, benefit from group learning & peer feedback.

The course is delivered in a fun and interactive way, by experienced tutors who've gone off to teach all over the world and many of them started just as you will, with the TEFL course in Galway is held in the Clayton Hotel Galway, Ballybrit, Galway.

Verified Student Reviews

I have just started my 180hour course work online and am pleasantly surprised by the depth and detail in the course material covered.

I just completed 120hr TEFL course and 30hr Online Teacher Training course. I found both courses to be well laid out and the content very interesting. There are lots of useful tips and resources that will help get you started on your career path. The staff are extremely helpful and easy to get in contact with if you need any guidance or queries. I would highly recommend.

Orla Nic D.
12:15 18 Nov 20
The 120 Hour TEFL course is very easy to follow and you can go at your own pace. They supply an extensive list of resources to help you along the way. The team are always quick to respond and are very helpful and friendly. I would highly recommend this language school to anyone interested in a career as an English teacher.

I've recently enrolled in the 120 hours course and I can only recommend. The lessons are very well composed with lots of videos and real life teaching scenarios. Plus there's always a great communication and assistance from TEFL at all times :)

Michelle was so helpful and really put my mind at ease for moving away to teach English in a few months time. I feel totally prepared with all the advice and tips she has given us and couldn't recommend this course more if you're thinking of teaching English!

Triskel E.
12:10 17 Nov 20
I have enrolled in the 310 hours TEFL course and just finished the 10 hour Certificate in Classroom Methodologies. The course was on line, via Zoom, and it really gave me the feeling of being in a real class. The other students were nice, the atmosphere was relaxed and friendly. The teacher, Michelle, she was fantastic. With a natural enthusiasm and irish flair that I absolutely loved! I was not sure about enrolling at the beginning but as soon as I started I realized I couldn't have made a better choice. I look forward to continuing the course and getting my TEFL certification with the Tefl Institute of Ireland!

Have just completed the IELTS online course with TEFL.IE. The course was highly useful in orientating me as to administering the course, and will no doubt benefit myself and my students in the future. Thank you! Joe

I finished a 120 hour TEFL back in January. The course was so easy to follow and I could do it in my own time. Raging I didn't purchase in class training to get hands on experience - will definitely do that in the future.
This could be yours
Have a look at your future Accredited TEFL Certificate