English Level Test - Find out if you have the level of English it takes to complete our TEFL courses.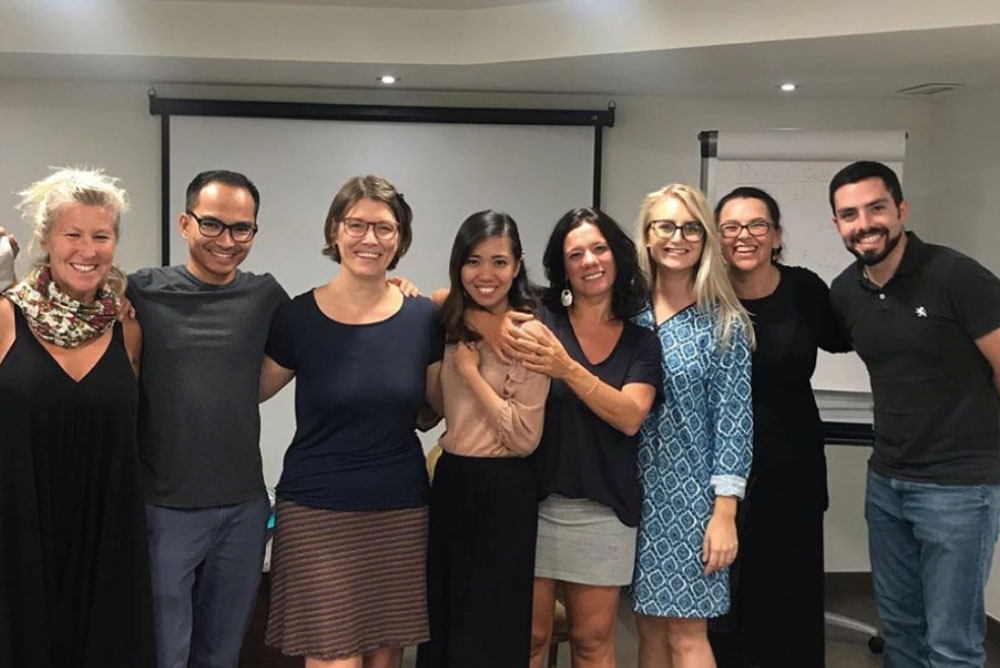 TEFL courses in Limerick
To successfully deliver our course, we use the best TEFL trainers available. You can also incorporate our classroom course with other TEFL Courses, providing you with a learning experience that can help you to teach English abroad.
Employers are looking for employees to have a minimum of 120-hours of qualifications and our recommendation is that you achieve this as a minimum. Therefore, we make our course easily accessible across a range of locations in Ireland including Limerick, Dublin, Cork and Galway.
---
---
Why take the 10-hour intensive Classroom TEFL Course?
Our one-day course in Limerick is designed to provide you with practical, hands-on experience. This will enable you to take advantage of opportunities that come your way when it comes to teaching English as a foreign language. The course gives you a thorough introduction into TEFL and it puts you in a learning environment where you can feed off peers and gain real experience that can help you.
The course can be added to the 130-hour or 180-hour Blended TEFL course, giving you the chance to obtain your minimum of 120-hour TEFL qualification. We empower our students to make the most of their experience with the TEFL Institute Ireland and many are now teaching all over the world. For the TEFL basics, our course provides you with the perfect opportunity to begin your teaching journey in the right way.
Verified Student Reviews

Caroline D.
09:39 21 Jan 21
About to finish this! It's user friendly.

I completed the 120 hour Advanced TEFL course last year and found it very interesting and definitely stood to me when teaching online. When applying for jobs I needed my cert to be amended to show my full name as it appears on my passport - something to look out for when applying for jobs especially in Asia. Ola was so helpful and quick to respond! Thanks!

I finished the 120 hour online TEFL course. I really enjoyed the course, I found the course content interesting and informative. I was a bit apprenhensive at the start but as I progressed throught the six modules I found my knowledge and confidence grew. The course is well designed and the modules logically follow each other and help to build your knowledge as you proceed through the course. After the 120 hour course I did the 30 hour Advanced Grammar and found this really really useful and brought together the basics I learned together.I would recommend this course to anyone who is interested to teaching English as a foreign language.

I just completed my 30-hour Teaching English Online course and I found it very interesting and very helpful! The course was easy to follow - includes youtube clips, short audio clips and visuals. The staff were very friendly and helpful! I would recommend to complete a 120-hour course before doing this course.

I have just completed the 120 Hour TEFL course. I would highly recommend the course to someone who would like to retrain or up skill. The detail in the course and the support from the TEFL Institute is fantastic. I completed the course on a laptop and found it very easy to follow. It has always been a course I wanted to complete and The TEFL Institute have made it very affordable.

I have just completed the 120 hour premier TEFL course and I am delighted to have chosen it. I loved it and could not recommend it enough. It was so accessible and user friendly. It comprised of 10 modules which provided videos, references and examples throughout which were very insightful, and had a quiz at the end of each module which could be re-attempted if needed. The staff are so friendly also and I gained a lot of knowledge in a short amount of time!

After completing my 120 hr TEFL course with TEFL.ie I won the Teaching English Online course in a competition on their instagram page. This course was so user friendly and easy to navigate. I completed it in a few days and learned so much. It is full of useful information regarding teaching online including what you need to get started, how to plan engaging lessons, the pros and cons of freelancing vs working for a company as well as some major companies that recruit online TEFL teachers. I would definitely recommend this course if you are considering teaching online!

I have just finished my 30 hour Teaching English Online TEFL course and I loved it. The course work is engaging, and the material is interesting. The TEFL.ie staff were so helpful the whole time and now I feel ready to teach online and gain some extra funds for my Thailand placement in the upcoming months.
This could be yours
Have a look at your future Accredited TEFL Certificate