Interview with Caoimhe in Thailand
June 27, 2019
Curious as to what life is like teaching English in Thailand? Read below for our interview with intern Caoimhe to hear about what led her to move abroad and start the adventure of a lifetime.
TELL US ABOUT YOURSELF! WE'D LOVE TO KNOW ABOUT YOUR BACKGROUND, WHAT DREW YOU TO TEACHING ABROAD, AND MORE.
Hey, my name's Caoimhe. I am a 23-year-old English and History graduate from Dublin, Ireland. I finished my studies last September at University College Dublin. To be completely honest, I had no idea what I wanted to do after I finished University bar travel.
I had a small bit of experience teaching English abroad, as I had done volunteering in Tanzania a few years ago. It was an experience I thoroughly enjoyed and made friends for life from it. So I thought why not try it again, and put that four-year degree to use? Not only would teaching abroad give me an insight into whether being a teacher was a career path I might want to venture down in the future, but it would also allow me to travel, whilst making friends and money.
TELL US ABOUT YOUR PATH TO TEACHING ABROAD—DID YOU ALWAYS KNOW YOU'D END UP IN THAILAND?
I had always wanted to visit Thailand. For years, it had been on my 'must visit list'. A lot of my friends had been there and they'd only said great things about the country, the food, and the people. So for me, Thailand was the only place I did consider teaching in. I knew that by teaching in a small community I would be properly exposed to Thai culture and would have to immerse myself into their way of life. Also, the idea of living in a country that (actually had good weather and) was completely different from my own was an exciting prospect. 
WHAT WERE THE BEST PARTS OF YOUR TEFL COURSE EXPERIENCE? DO YOU FEEL LIKE IT PREPARED YOU FOR TEACHING IN THAILAND?
Before arriving in Thailand, I was initially nervous. I was worried I would forget something important like my passport or would be totally useless and lost. But the staff in the Tefl Institute of Ireland helped me so much and answered all my questions. I don't know how many hours I spent on the phone to Katie, but by the end of each phone call with her, myself and my parents felt so at ease that the idea of living and working in rural Thailand didn't seem daunting or scary at all.
Having the Tefl Institute of Ireland and their partners in Thailand as a support base has been very helpful in easing myself into my new life, so I am grateful for having them. However, I don't think you can ever be fully prepared for teaching in a new school, let alone a new country. You just have to throw yourself into the thick of it and learn through that. It's a learning curve and you're learning every day but it's a great experience.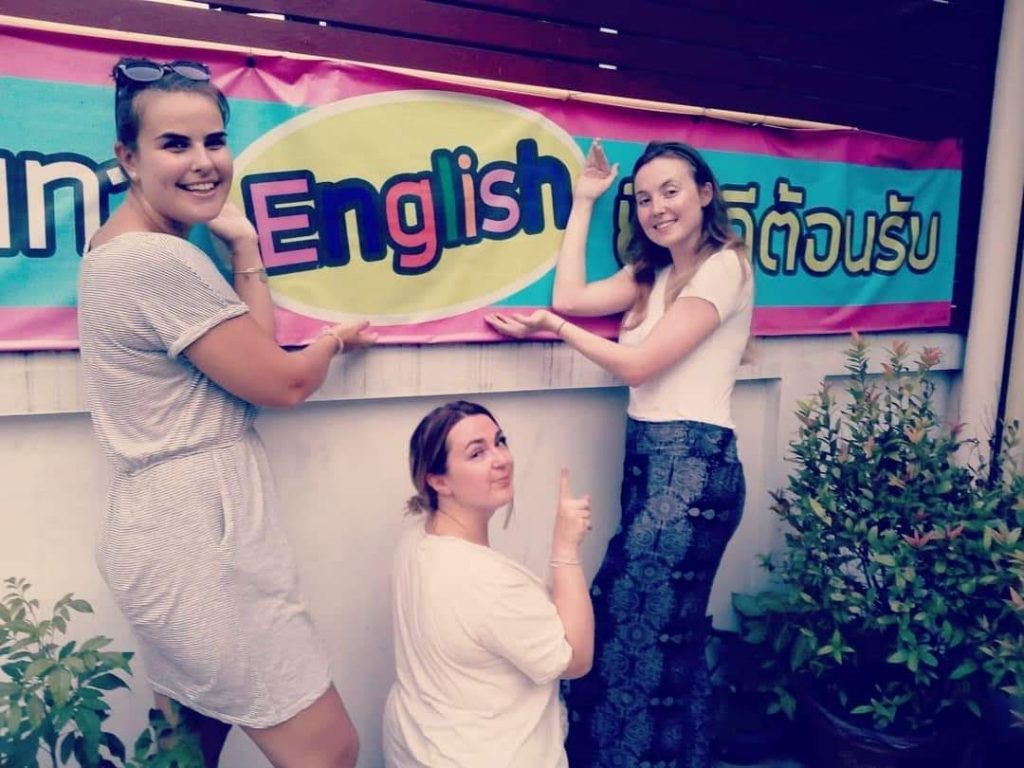 YOU WERE ORIGINALLY ON A MUCH DIFFERENT CAREER-PATH. TELL US ABOUT YOUR COLLEGE STUDY EXPERIENCES AND HOW/WHY YOU MADE THE SWITCH TO TEACHING.
I studied English and History at University, so for many of my classmates, teaching was the next step for them after our degree. Teaching was also a popular profession in my family. My dad was a primary school teacher.
But as I already said, I had no idea what I wanted to do after college. I wasn't ready (I'm still not) to make those big decisions yet. I had considered working in media, PR or teaching. But really I just wanted to see the world and experience new things. All I knew is that whatever job I ended up in it would have to be challenging, forever changing, social and something that I'd have to use my brain for. Trust me, teaching ticks all of these boxes. I've honestly never respected teachers so much in my life! Teaching in Thailand has given me the opportunity to travel and gain a new profession at the same time.  
TELL US A BIT ABOUT LIVING IN THAILAND. WHAT WERE YOUR INITIAL THOUGHTS? WAS THERE ANY CULTURE SHOCK AFTER THE INITIAL MOVE? 
My town was a lot bigger than expected which was a great surprise because I literally thought it was going to be just one road. We have a gym with a swimming pool. I do Muay Thai lessons there three times a week, it is great. Everyone in my class is Thai so it's a fun way to meet the locals and learn a bit of the language. The other three English teachers and I are the only foreigners where we live so everyone recognizes us and says hello, which is nice.
English isn't widely spoken and all the menus are in Thai, so I just hope for the best when I'm eating out or trying to go somewhere. But even though we can't always properly communicate we are always greeted with a smile and friendliness, so we are very lucky. There's a local night market every night and live music on the weekends so it's a great way to experience Thai culture and the local people. We get pulled up to dance a lot! They really do treat us well. I am still not used to the food and I don't think I will ever be used to the toilets but I no longer mind the geckos in my bedroom.
HAVE YOU DONE MUCH TRAVELING SINCE MOVING TO THAILAND? IF SO, WHERE HAVE YOU BEEN? 
I spent three months traveling around Thailand, Vietnam, and Cambodia before I started teaching in NangRong. I loved the Thai islands and Northern Thailand. I didn't expect Thailand to be so green but it is and it's beautiful. The beaches are amazing and snorkelling is a must. I am really glad that I had the opportunity to travel beforehand because I got to experience the touristy parts of the country and now I get to visit areas where seeing fellow foreigners is a rarity.
I must admit I haven't got to travel around as much I would have liked since I started working, the workload for my school is quite heavy compared to others so I haven't had the time. But I have been to Korat and am currently on a bus to Khon Kaen and then onto Chaiyaphum to celebrate another teachers birthday. The brilliant thing about having met all the other teachers during the orientation course is that you always have different people and places to visit in Thailand. Our next destination will be Buriram football stadium, my districts local team. They're local heroes and the jersey is basically part of my co-teachers uniform for work. So, although I strongly dislike soccer I will give up 90 minutes of my life for it.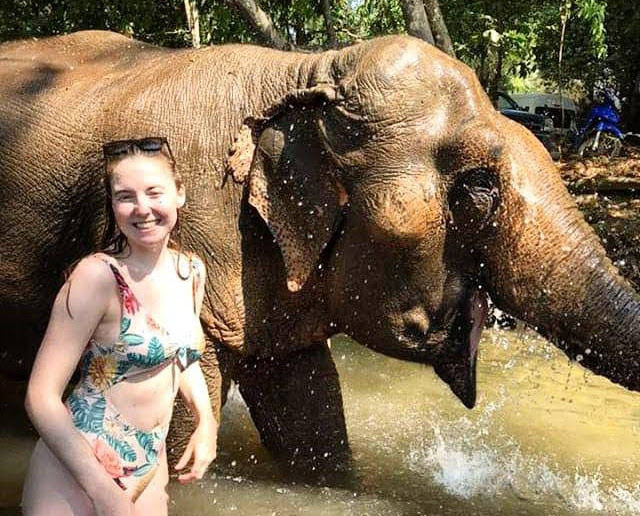 ANY ADVICE FOR THOSE CONSIDERING TEACHING ABROAD?
I would say go for it. I have never once felt alone or homesick since I have been here. It's definitely the best decision I have ever made. I came here alone but now It feels like I've known the teachers I work with for years. I teach grades K1 to P2, so 3-8-year-olds. They are adorable. I get showered with hugs, high fives, and stickers on a daily basis. It's the best. I will say though you must be prepared to work.
I teach IEP which is the Intensive English Programme and it's quite a heavy lesson plan. It can be quite tough but by being thrown into the deep end I am gaining invaluable experience for the future. When one of my lessons click with my students it is so rewarding and makes it all worthwhile. I am extremely lucky to be out here and to have taken this opportunity. I don't see myself coming home any time soon, I am thinking I will try teaching in Vietnam or the Philippines next, who knows. It's the best experience I've ever had, so you should totally give it a go. You will only regret it if you don't.  Want to find out more? Here is another blog about Suzanna's Teaching Experience in Thailand.