Teach English in Cambodia
Prepare yourself for 12 unforgettable weeks in the hustle and bustle of Phnom Penh where you will be teaching English in Cambodia´s legendary capital city.
Have your heart stolen by the immense beauty of the country and its people. Famed for its ancient underground cities, impressive temples and incredible cuisine.
The Khmer culture is one of South East Asia´s most captivating practices. Discover for yourself at the UNESCO world heritage site of the Angkor Wat temple in Siem Reap. And celebrate during Buddhist New Year in April.
Aside from earning a lifelong qualification and enhancing your teaching skills, you can explore a country bursting with colour, tradition, history and adventure.
A 14-day orientation will open up this exciting new chapter in your life where you and other TEFL teachers will learn about Cambodia's enthralling history, language and culture.
In between cooking classes and cycling through mesmerising Phnom Penh, you will have workshops and seminars on Cambodia´s education system and how to prepare yourself for 12 of the most rewarding weeks of your life.
TEFL Experience Requirements
Fluent (C1+) or native English speaker
Completed High School
TEFL qualification (included)
22 years old +
Flexible, hardworking and mature
A clean bill of health
No criminal record
How it works?
Before you go, you'll have an application form to fill out and a video chat. Then submit all your documents, and you'll be on your way to Cambodia!
Getting there
Once you have been formally accepted, you can book your flight to Phnom Penh International Airport (Pochentong International Airport) where you will be picked up and transferred to your new home for 12 weeks.
What do you need to organize?
International flights: return flights are a must
Police check: Each applicant must have a clean criminal record
Budget: Each applicant covers excursions and meals outside of school hours
Travel insurance: Comprehensive cover for travel & medical insurance
Vaccines: Consult your doctor
Visa costs
Your teaching experience
Whether you are a first-time or seasoned teacher, our 120-hour Premier TEFL course will cover all areas of getting a TEFL Job in Cambodia.
The teaching placement is primarily in the English schools of Phnom Penh. However, there are opportunities to teach business, healthcare and communications classes as well.
Your working timetable will be approximately 35 hours per week, divided into classroom teaching, lesson planning and grading.
Your teaching style will focus on conversational English with students of all ages, from kindergarten to mature working adults. And our TEFL course will equip you with the skills and knowledge to teach classes to complete beginners to highly fluent English speakers.
On weekends, you can embrace the plethora of activities around you. Or you and your fellow TEFL teachers can embark on expeditions to explore the length and breadth of Cambodia.
Location
Please note that all successful applicants will live in the same area of the capital city
Outside the classroom
Cambodia is a country that is yet to be fully explored. The people and culture are profoundly unique to their neighbours. So with our free Khmer lessons, you can strike up new friendships and dive into Cambodia´s history and age-old civilisation. Not forgetting to mention your free Khmer cookery classes (did someone say nom banh chok?).
Travelling is cheap in Cambodia, with a flight to places like Siem Reap costing only $25. But the experiences and memories you will come away with are priceless.
Allowance
With US$200 monthly allowance you'll cover your basic living essentials. Bring some extra spending money to enjoy an exciting social life. The cost of living in Cambodia is exceptionally low-cost; your monthly allowance plus accommodation, utilities and use of a bicycle mean you're set to have a fantastic Khmer experience.
At the end of your internship, you may decide to teach English in Cambodia is for you and want to take on a more permanent teaching contract. Just like many of our interns have already done. If so, our Khmer team will be on hand to support you in finding a full-time teaching contract with salaries up to $1000 per month.
TEFL Training Included
Group Size up to 15
Receive discounts & advice about Cambodia and similar experiences
✖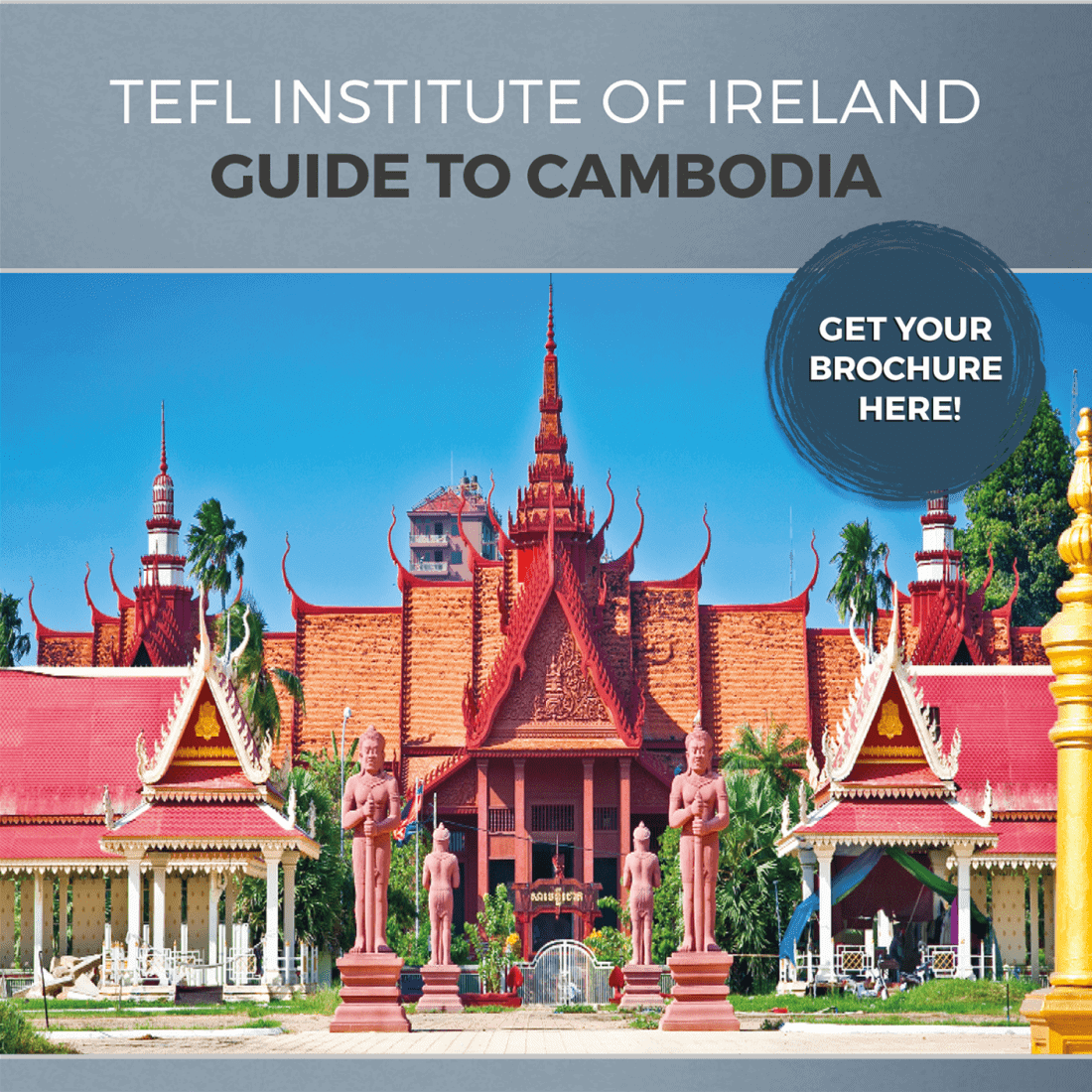 What's inside?
Welcome to Cambodia
Placements & locations
Orientation & training
Who can apply
Cambodia facts
What's up for grabs
FAQ
Sign up and get instant access to your Cambodia Brochure